About Andy
Andy Johnson-Laird is a forensic software analyst who analyzes computer based evidence and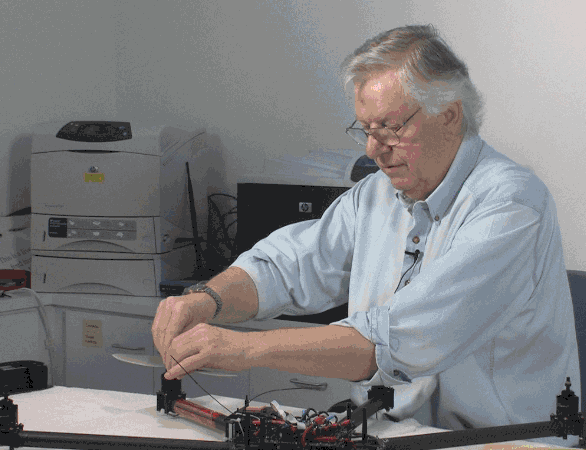 testifies about it in Federal and District Courts in the United States. He is also a self-launching sailplane pilot, Cinestar 8 builder and pilot, photographer, videographer, sound recordist, oenophile, and is just sinking his teeth into sous-vide cooking (well, more correctly, sinking his teeth into food cooked sous-vide).
Andy is a voting member of ASTM International's F38.02 subcommittee that has been requested by the FAA to develop unmanned aircraft best practices standards. He is the lead drafter of the best practice standards for
commercial flight operations of
multi-rotor helicopters directly over people.
Andy flies two Cinestar 8's, a Mikrokopter MK Hexa XL, several Phantom 2 Visions (none of which have yet flown back to Shenzhen Province), and a Blade mQX (with training wheels), and shoots airborne video as a volunteer for Oregon Public Broadcasting's local productions such as Oregon Field Guide and the special Oregon Revealed. He has also produced and edited independent documentaries including Emma Unplugged (a documentary about 100 artists at The Emma Collaboration, 150 km north of Saskatoon, who were denied electrical power and challenged to collaborate and produce art), and the DVDs and videos you see on this site.
In 1963 he started his computing career in London, working as a mainframe computer operator, technical writer, systems programmer, and lecturer in computer science, teaching people how to program. In the early days of the microcomputer era he built and tested microcomputers from kits and wrote The Programmers' CP/M Handbook, published by Osborne McGraw-Hill in 1983. It had 22,000 lines of Andy's source code in it. Osborne McGraw were leery of selling the source code as a separate product or on a floppy diskette in the book so they let Andy do that. Where was the Internet when you needed it?
Andy wishes to express his gratitude to his colleagues at Johnson-Laird Inc. who smiled benignly when he became distracted by multi-rotor copters, and to his wife, Kay Kitagawa, without whom none of his accomplishments since 1975 would have been possible. She has never once asked him, "Why do you need another <x>?" where <x> could be a camera, a lens, or a copter. She too, smiles benignly, and with a radiant smile that still melts his heart.
Andy also wishes to thank Gerald H. Robinson, his immigration and business attorney who, back in the late 1970's, helped Kay and him go from illegal immigrants to U.S. citizens by way of suing the Immigration and Naturalization Service for "arbitrary and capricious" judgment, and G. Gervaise ("Gerry") Davis III Esq., and the late Stephen J. Davidson Esq. who helped Andy get started in the field of Forensic Software Analysis with countless invitations to speak at computer law conferences.
There is more about Andy on Wikipedia. Some of it is even true.
Also see:
www.jli.com : Andy's day job,
www.bruisedpixels.com : Unconventional computational photography images,
www.brushoflight.com : Conventional photography,
www.turnedtreen.com : Woodturnings.